Davenport
INFORMATION CENTRE > > >


---
---


Local 7
Conj. Buena Vista
Avenida de Espana
Sitio de Calahonda
Mijas-Costa
Malaga, 29647
SPAIN

Tel No.
(+34) 952 930 200
(+34) 651 759 711

N E W ! ! !
EXCHANGE your CASH & traveler's CHEQUES in the NEW LICENSED EXCHANGE BUREAU in our office. Opened EVERY DAY till late!!! The best exchange rates in Calahonda.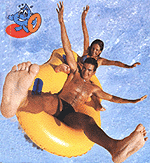 TOURIST INFORMATION CENTRE
---
Enjoy your holidays visiting the biggest selection of leisure & entertainment centres of the south of Europe - COSTA DEL SOL.
Life is more than just a beach. We can offer you many excursions and an ever increasing range of theme parks and attractions to visit. There are plenty of adventure trips for action addicts and those seeking more than merely sun, sea and sand. Here you will find a comprehensive rundown of parks, pleasure grounds and activities, which bridge the generation gap and guarantee action-packed fun in the sun.

---
EXCURSIONS: Gibraltar, Granada, Ronda, Tanger, Sevilla, Jerez, Cordoba, Nerja & Frigiliana, Casares 4x4, Antequera
---
ENTERTAINMENT: Flamenco, Horse shows, Bullfights, Tivoli World, Ferias, Going out
---
ADVENTURE TRIPS: Jeep safaris, Dolphin world, Selwo adventure, Selwo Marina, Cable cars, Scuba diving, Water park, Crocodile park, Sea life, Fuengirola zoo, Fishing & Boat cruise, Horse Riding, Other activities
---
ANDALUCIA CALENDAR OF EVENTS
---
TODAY's INTERNATIONAL EXCHANGE RATES:

Personal Currency Assistant click here
---
THE WEATHER TODAY IN:


MALAGA - at the Airport
/AGP/
SPAIN

Temperatura = Temperature (Engl.)
Viento = Wind (Engl.)
Humedad = Humidity (Engl.)
Presion = Pressure (Engl.)

---